Fast VPS Hosting with cPanel/WHM
Full Root Access, Dedicated Resources, cPanel and WHM plus
Month-to-Month Billing With No Contracts.
Why You Should Use HostHero VPS Hosting:
Your own virtual private server with dedicated resources.

cPanel & WHM
Your VPS will comes with the award-winning cPanel and WHM Control Panels giving you total control of your VPS server ($25/mo value).

CentOS with Root Access
You'll have full root access giving you total control of your server. Install anything you like, you're in the drivers seat.

FFmpeg Pre-Installed
FFmpeg video and audio conversion modules come pre-installed so you can setup your video website without having to install any codecs.

Free Migration Service
We'll handle the migration from your current provider. We'll move your entire website on to your VPS seamlessly.

Security Suite
Each VPS comes with CSF and LFD firewalls, brute-force detection, mod_security and a real-time virus scanner.

24/7 In-House Support
Our in-house support team is ready to help you every step of the way. You can reach us by phone, live chat or through a support ticket.

Latest Hardware
We use the latest Intel servers with RAID-10 technology giving you full redundancy and peace of mind.

Reboot/Restart Access
You control your server with the ability to restart and reboot your server at any time.

Premium Bandwidth
Your VPS will be connected to the Internet at 1Gb/sec on one of our 3 premium Multi-Gigabit network backbones.
Manage Your VPS with cPanel and WHM
Controlling your VPS is simple with WHM. You can use WHM's interfaces to create websites, email accounts and restart services.

View WHM Demo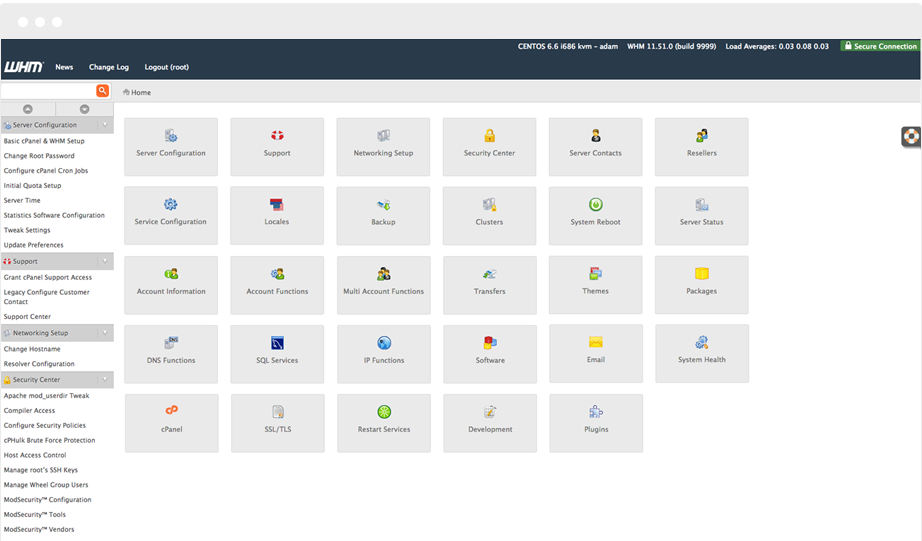 Frequently Asked Questions
Have questions? We've got you covered. Find answers to our most common questions below or speak with us on Live Chat
What is VPS Hosting?
VPS stands for 'virtual private server'. With a VPS you're given dedicated CPU, Memory and Bandwidth resources.
How easy is it to switch between VPS plans?
Our VPS's are scalable on the fly. You can switch between plans at any time with no downtime. Changing plans takes less than 30 seconds. Simply contact our sales team at any time to change plans.
Do I get Full Root Access to my VPS?
Yes, you'll have full root-level SSH access to your server. You will also get cPanel and WHM control panels to manage your VPS.
Can I pay month-to-month?
Yes, you can choose to pay monthly, 6 months, 1 year, 2 years or 3 years. We offer discounts on longer billing cycles but if you choose to go monthly there are no contracts.
Can you help me migrate my site from my current provider?
Yes, we offer a free migration service from your current provider. We'll move your website(s) over to your new VPS free of charge.
What comes pre-installed on my VPS?
Your server will come with CentOS and the following defaults: PHP, MySQL, Apache, CSF firewall, Mod_security, cPanel and WHM.
Do you offer a backup service for my VPS?
Yes, you can subscribe to our Premium Backup Service for incremental off-site backups of your entire server. We can also configure your server to keep local backups as well.
What happens if I outgrow my VPS?
We can discuss either a custom VPS server or we can move you to one of our Dedicated Server plans. When upgrading we'll move everything on to the new server for you, hassle free.
"I did my homework on this one; all things considered, the VPS-50 is seriously fast. It's been a few months, and so far HostHero has impressed me. There is always someone around to help me when I hit a wall (or lets face it, am too lazy to figure it out), and I never get alerts or complaints when traffic spikes on my sites. Highly recommended, two thumbs up!"
Richard Hayword, Web Designer - Florida, U.S.